Tuesday, August 25th, 2015
There were Superheros all over the place, this past Sunday.
From little kids with their faces painted like the Ninja Turtles, Spider Man, and even characters from Frozen…
To the athletes who participated in the 5K Run/Walk…
To the entertainers who did their thing after the event was complete.
It was a day to celebrate the inspiration we get from one awesome little boy and his family.
Sunday, August 23rd, was the 2nd Annual Mason's Hope 5k Run/Walk.
And I had the honor to be a part of it for the second year, perform classic oldetime strongman feats of strength.
Above, I'm blowing up a hot water bottle until it bursts…
The whole day of activities is dedicated to Mason Barto, a boy from Towanda, PA, who has CDG (Congenital Disorders of Glycosylation) and it keeps him from living the kind of life most youngsters enjoy.
However, despite the challenges he faces, physically, Mason and his family continue to be bright faces in the community and an inspiration for countless people.
I know that when I came home later on and did my August of Arms workout, thinking of Mason made me focus in and take things a little bit further than my body wanted to.
It truly is my privilege to be a part of this great day each year.
Below, you'll see the video of the entire show I did, and after I finished up, local singer, Aaron Kelly, who was on season 9 of American Idol, gave a little concert as well.
A great day indeed. I hope you enjoy the videos.
---
Intro and Warm-up Bend – Bending a Horseshoe
A nod to Pat Povilaitis, "The Human Vise," and first person I ever saw do this feat.
---
---
Bending a 60D with Aaron Kelly in my Arms
A nod to Dennis Rogers, Grandmaster Strongman, who made this feat famous.
---
---
Bending a Nail on the Bed of Nails
I invited Mason up to help me out with this one.
---
---
Kid Lifting with the Strongman Bench
The kids always have a lot of fun with this one. I got the idea from Strongman John Beatty, who was once on America's Got Talent and performs strongman shows all over the country.
---
---
Breaking a Chain with Arm Strength
I wanted to do something cool involving Arm strength, so I decided to break a chain. Looking back, I wish I would have gone for a double chain break, because the single ended up being too light.
---
---
Ripping a Phone Book in Half
This was a Pittsburgh phone book, so I made a couple sports jokes before ripping this book in two.
---
---
Bending / Breaking a Hammer
This was a Pittsburgh steel hammer, so I worked the Pittsburgh sports joke in one more time. Somehow, the handle broke on this instead of the neck bending like it usually does, so it didn't look as good as it usually does.
---
---
Bursting a Hot Water Bottle with Lung Power
The hardest challenge of the shoe, I always feel like I might pass out doing this one.
---
---
Dousing the Flaming Hammer
This is one of my signature feats, I guess, since I light it on fire and talk about my original interest in becoming a pro wrestler called Napalm Jedd. I also use it to salute Slim "The Hammer-Man" Farman, one of if not THE oldest living performing strongman.
---
---
Performing feats of strength is a fun and reward form of training, and I'd love to share my knowledge with you, via any of my various resources. Please check some of them out below and let me know if you have any questions as far as what can be the best fit for you.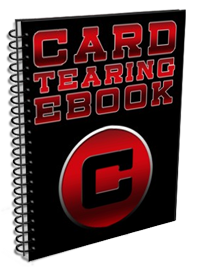 All the best in your training.
Jedd