Friday, July 31st, 2015
August of Arms 2015
You Son of a B*tch!
When set out to put August of Arms 2015 together, I wanted it to be something different.
Not just the same old arm training B.S. where it's a bunch of endless reps, and all you're trying to do is get a pump.
While the size is good, I always thought it was best to build some strength along with it.
So, I worked plenty of strength training into the August of Arms layout as well.
In fact, the first workout of August of Arms is a Testing Day where you get your baseline strength measurements.
There are 4 different movements that I chose. One low-volume test for both biceps and triceps, and one high-volume test for both biceps and triceps.
If you think that August of Arms is just the same old stuff regurgitated, then you're wrong, brother. Period.
I needed to have these videos ready for the initial release of the product, so I shot them several days early.
Here's how I did in my baseline arm strength and endurance tests.
Close Grip Bench Press – Bodyweight for Reps
Barbell Curl – 135lbs for Reps
One Arm French Press – 30lbs for 100 reps AFAP
Poundstone Curl – 45lbs for 100 reps AFAP
I thought, going in, that I had chosen some pretty good benchmark movements, and after going through them myself, I feel even more strongly that I picked good movements to track progress.
Throughout the month, aside from doing exercises that are going to add size to your arms, you'll also be doing other lifts that contribute to your performance on these 4 key lifts.
I feel that this month's program is gonna be awesome for you. It's different from anything I've ever read or tried, and I think it's going to bring about big results for you.
If you want to build bigger arms, then pick up August of Arms, today.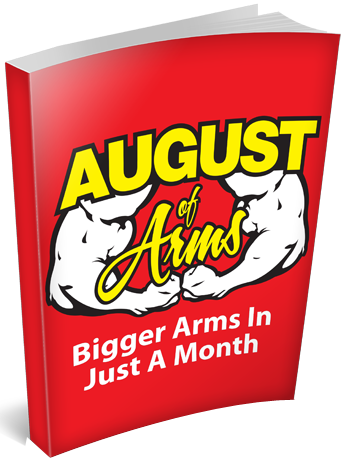 All the best in your training.
Jedd