Fat Gripz Experiment: How Much Do They Affect Your Lifts
This Spring I have begun adding a great deal more pulling movements into my training, especially types of Deadlifts.
In the past I would only perform Deadlifts or other pulls from the floor once a week in order to avoid a back injury, but these days I am trying to do more pulls from the floor, but from different heights.
Using the Farmer's Walk handles has been great for this because there is not such a need to reach so far down to the ground in order to grip the weight and pull, as in a normal barbell deadlift.
In one recent video, I decided to see how much I could pull on the Farmer's Handles.
Below is the video…
Max Effort Deadlift with Farmer's Handles
I weighed the implements and they are 17-lbs. My max pull was with 310-lbs added per implement, so in total it was 327-lbs per hand.
After posting the video, my friend Nate Brous asked if I'd be willing to run a little experiment. How much would Fat Gripz affect the amount I'd be able to lift in a max effort pull?
I had never seen anything like that done, and I thought it was a pretty cool idea, so I decided to give it a try in my upcoming workouts. Here are the results…
Max Effort Farmer's Handle Deadlift with Fat Gripz
In this workout, I pulled 257-lbs per hand with the basic, blue Fat Gripz handles. I was pretty surprised that I immediately lost 70-lbs on the deadlift, but given that Fat bar work is my absolute biggest struggle in Grip Training, it does make some sense.
Max Effort Farmer's Handle Deadlift with Fat Gripz
In this session, we used the Fat Gripz Extreme Handles, and amazingly enough, my grip dropped nearly another 70-lbs! This time I got 197-lbs per hand.
How Do the Fat Gripz Models Compare in Size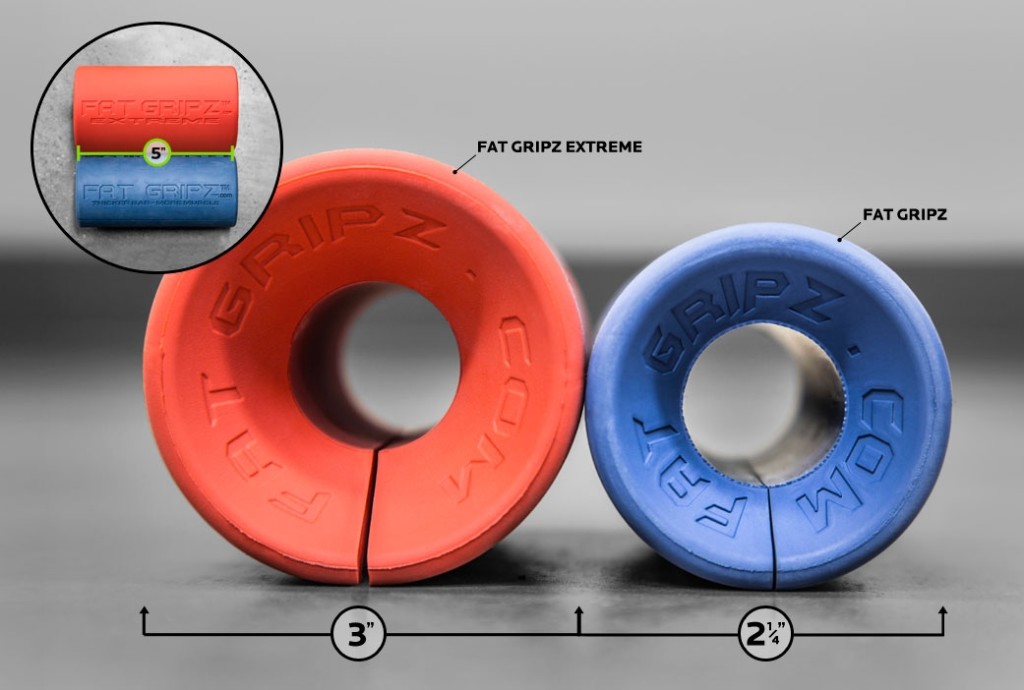 Comparing the sizes of Fat Gripz Extreme (Orange, Left) and Fat Gripz Basic (Blue, Right)
Results of the Experiment
So, here is a rundown of the data:
Week 1 Regular Grips: 327 pounds per hand
Week 2 Fat Gripz: 257 pounds per hand (21.4% drop from Week 1)
Week 3 Fat Gripz Extreme: 197 pounds per hand (39.8% drop from Week 1, 23.3% drop from Week 2)
Naturally, I am not a Research Scientist, so there are some flaws to this "experiment." First off, my Farmers Handles have duct tape over the gripping surface, because they are too heavily knurled for my liking. Over time, the duct tape has cracked and rolled and the adhesive residue has crept somewhat to the outside layer. So, they could have actually helped me on the Week 1 pulls, I suppose. It also could have hindered me though, because the tape is rolled up and seems to turn when in your grip.
Next, the training that took place on days prior to the days I shot these videos was not controlled. In other words, I may have not trained the day before shooting on some of the days so my hands would have been fresh, or I might have hit a killer grip workout the day before and my grip may have been a bit worn out.
Either way, despite these subtle inconsistencies, I think this experiment is still fairly accurate to show you what you can expect as far as reductions in pull numbers for lifts such as this.
It's also important to note that in no way am I warning you NOT to buy Fat Gripz. I am not saying, "Oh No – don't use Fat Gripz Handles because your numbers will go down." Not at all.
Actually, this experiment just shows you that the two Fat Gripz handle will do their job – they will make your hands work harder and strengthen your grip.
Remember, Fat Gripz falls under the category of Open Hand Training because most people can not get a locking grip between their thumb and fingers. Open Hand Training is the BEST way to train your grip for increasing your general hand strength. In other words, if your hands are just plain weak, training with Fat Gripz can help you.
I plan to continue cycling through these three lift Farmer's Deadlift variations in the coming months. It has been great getting more pulling in. My body responds well to pulls from the floor as far as muscle building and strength are concerned. So, you will see this topic revisited again in the coming months.
For now, get your Fat Gripz Handles here.
Any questions, leave a comment below.
All the best in your training.
Jedd
Want to Build Your Own Grip Equipment?
Check out Home Made Strength Grip Edition

Articles You Might Also Like:
Tags: fat gripz, grip strength, grip training, grip workout, hand strength
6 Responses to "Fat Gripz Experiment: How Much Do They Affect Your Lifts"
Leave a Reply