Thursday, July 30th, 2015
Growing up with a steady feed of wrestling during my younger years, I always wanted to build up my own big set of arms.
Bank Rolls Do Not Build Biceps.
-Ultimate Warrior-
I grew up with guys like Hulk Hogan, Ultimate Warrior, the Warlord, the Barbarian, Jimmy Snuka, and other wrestlers who were JACKED beyond belief. So I wanted to be big and muscular, too, with a THICK set of arms.
Unfortunately, I had no weights as a youngster and I was actually kind of lazy in high school, so I didn't have much chance of building big arms until I was in college, playing baseball at Mansfield University.
That was when I met Scott Costa.
Scott was another one of the first-basemen on the team, and the first day of practice, I was instantly impressed with his muscular development. I had only ever met one dude in real life, before that who was actually muscular.
As a fan of weight training with no idea how to get started, I really looked up to him because I could tell he worked hard and knew what he was doing.
He was also a pretty funny dude. "Look at these aesthetics, Johnson. Aesthetics."
I didn't even know what that word meant at the time. All I knew is I wanted to build arms like his…
Once I started lifting, I was always serious about my arm training.
I never made it a habit to miss or skip arm workouts and took my training seriously, even though some people don't even bother training arms, for whatever reason.
But last year, I decided to raise the intensity up a notch.
I was driving in the car on the way back from New Jersey with my long-time friend in lifting, Brad Martin, and we came up with the idea of training arms every day during the month of August. I'd first seen Dave Depew doing daily arm training, and after I saw his awesome results, I decided I wanted to try it.
So, I started posting about "August of Arms" here on the site, out on Facebook, and on some other forums and websites. Before I knew it, other people were joining in as well.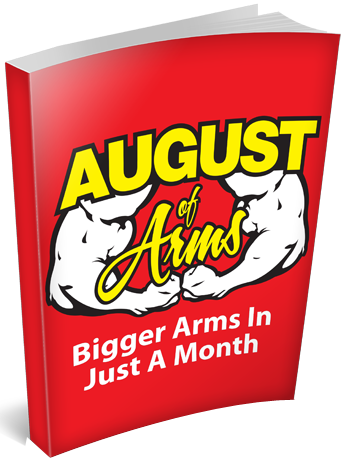 So, during August of 2014, I trained Arms every single day and I was very happy with the results. I added about an inch to each arm, going from right around 18 to right around 19 inches. I heard from several others who said they saw good gains as well.
But the other thing I kept hearing a lot of was the fact that people wanted a program to follow. Some people felt like they were wandering around aimlessly without some guidance. Some were adding stuff in at the end of the workout and getting tired of the same old stuff. Others felt like they could have gotten better results with more of a plan.
That kind of feedback came to me enough times that I decided I would put something together for August of Arms 2015.
So, for the majority of July, I have been working hard to put together an awesome month of training for you.
August of Arms contains 31 workouts, one for each day of the month of August, to help you both increase your arm size as well as your strength.
While being big has always been an interest of mine, I always liked the idea of building strength along with it too.
And since some people got tired of plugging the same handful of exercises into the end of their workouts last year, I made sure to mix things up this year, adding 69 different exercises into the program.
There's even more great stuff I packed into the program. If you want to find out more about it, and especially if you want to add Noticeable Mass to your arms this August, be sure to get August of Arms.
All the best in your training.
Jedd
---
---