Wednesday, May 14th, 2014
I was recently interviewed by Josh Hewitt in the Straight to the Bar Gym Chats.
The topic was Grip Strength and Feats of Strength.
In the video, we also talk a bit about how I got involved in strength training and what led me to loving Grip Strength and Feats.
If you are looking for information on Feats of Strength, you have come to the right place.
My collection of Feat of Strength information is the best that is available anywhere. My products leave you with a complete understanding of how to do the feats, how to train for them, and how to progress with them.
While I have a lot of respect for many of the other authors and producers out there, my products are simply better.
Check out my products below:
---
Braced Bending
Get ready to turn your hands and wrists into weapons of mass destruction. This DVD will show you how to destroy EVERYTHING in your path. From frying pans, to steel bars, to horseshoes, and wrenches, Jedd and Mike team up once again to bring you everything you need to know on how to do odd object bending like a champion. It's fun to destroy things around the house – start today.
Order the Braced Bending DVD today
---
Nail Bending eBook
Steel Bending is often called the gateway drug of Feats of Strength. You literally get hooked on the feeling of steel bars, nails and bolts, giving way to your ever increasing wrist, hand and upper body strength. This ebook has produced over a dozen of official IronMind Red Nail Certified Athletes as well as countless other Red Nail Benders who are yet to be certified. With information on technique for all the major bending styles, a conditioning program, a HUGE strength training library and a progression of nail, bolts and steel bar, you will have everything you need in this ebook.
Get the Nail Bending eBook today
---
Hammering Horseshoes
Learn how to what was never meant to be done – Horseshoe Bending – just like the strongmen of yesterday and the modern-day Strongman Performers as well. Learn to do the feat of strength that has stood the test of time from the Leaders in Grip Strength Feat Instruction, Jedd Johnson and Mike Rinderle. Discover horseshoe progressions, how to wrap shoes for protection and how to kink, sweep and crush them into heart shapes. Why would anyone NOT want to bend horseshoes?
Get the Horseshoe Bending DVD today
---
Nail Bending: How to Melt Steel with Your Bare Hands
The Nail Bending DVD show you complete technical demonstrations of the three major bending techniques as well as information on strength building, injury prevention, and MORE. Get your bars, get your wraps, get warmed up and hit the play button. Soon, you'll be able to wrap up your first bar and bend it right along with me. Soon, you'll know the secrets of getting a tight, secure wrap, how to generate maximal strength, how to accomplish all your goals in steel bending.
---
Phone Book Mass Destruction
Phone Book Tearing, a classic feat of strength done by performing strongmen and grip enthusiasts for over 100 years, can be just as exhilarating as bending steel once you know how to do it right, or it can be frustrating as hell if you don't. This ebook will set you straight.
How to Tear Phone Books Like a Strongman
---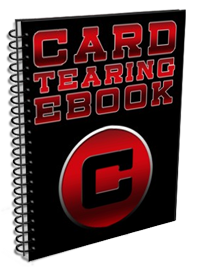 Card Tearing eBook
Card Tearing could be the best feat of strength for beginning strongmen to try, because it gets your fingers, hands, wrist and elbows used to producing the kind of tension that comes with doing feats of strength. The ebook shows you how to progress up to tearing your first full deck of cards, as well as how to strengthen your hands and wrists specifically for the feat of card tearing without having to buy endless decks of cards.
---
The Art of Scrolling Steel
In this DVD, Bud Jeffries and I team up to bring you the ultimate resource on scrolling steel bars into abstract art and purposefully shaped objects. You'll learn long bar feats, mid-bar feats, and how to progress through the many different types of scrolls. We also packed this DVD set with incredible ways you can train with barbells and bands to get stronger at steel bending without always having to bend steel.
Get the Art of Scrolling Steel
---
CRUSH: Total Gripper Domination
This product explores every aspect of Gripper Training you need to know in order to improve your crushing grip strength and even certify in the major gripper certifications. Learn how to maximize every facet of your technique in order to smash your target grippers and eliminate any possible weaknesses in your crushing grip. Be amongst the best in the world once you watch this awesome video. Normally an on-line DVD, but you can also upgrade to the hard copy as well.
Order the Gripper Training DVD today
---
Napalm Pinch: How to Dominate the Two Hands Pinch
The Two Hands Pinch is contested in nearly 75% of all competitions. How well you do in it can make or break your overall performance in the entire contest. This DVD shows you everything you need to know to take your Two Hands Pinch training to the next level. With information on Technique, Hand and Device Prep, Drills, and Contest Programming, you'll learn the ins and outs of Two Hands Pinch training.
New Low Price – Napalm Pinch DVD
---
EXCLUSIVE OFFER: Buy the Nail Bending DVD, Braced Bending DVD, and the Hammering Horseshoes DVD and get either the Card Tearing eBook or Phone Book Mass Destruction FREE!
Use the button below:
All the best in your training,
Jedd