Build More Muscle and Burn More Fat with Exercise Groupings
I used to hit the same exercise for the standard 3 or 4 sets, resting in between sets, and then I'd move on to the next exercise.
BORING.
While I got decent results from this, with all the rest time, my workouts were getting longer and longer.
Tack on some cardio at the end, and you find your workouts just keep on eating up more and more time.
Once my daughter was born, I felt the need to prune my workouts down, in order to be able to spend more time with her.
I found that grouping 2 or more exercises together allowed me to get just as much work done during my workouts, while saving me a whole bunch of time, and I even began seeing better results in the form of MORE MUSCLE and MORE FAT BURNED.
So, these days, my workouts pretty much always are comprised of exercise groupings, done in back-to-back fashion.
Call them Super Sets, Giant Sets, Circuits, Complexes, Medleys, call them whatever you want, for me, lifting like this is the way to consistently have awesome workouts and enjoy great results.
The Yoketober program is no different. It relies heavily on these exercise groupings in order to make the Yoke grow.
Here's a sample of an exercise grouping from Yoketober, that I did the other day.
Deltoid Smasher Super Set
This 3-piece grouping is going to hit the deltoids from 3 different angles. In Yoketober, the deltoids are one of the main focal points for getting a wider upper torso, and casting a bigger shadow.
Also, here's another 2-piece pairing that targets the biceps.
Back to Back Biceps Combination
This one isn't from the Yoketober program, but it could be easily tacked onto the end of one of the Yoketober Yoke Days, if you're craving a little extra biceps action.
In addition to the benefits I've seen as far as building muscle with these combos, I've also seen solid fat-burning results.
I credit this to the way these pairings so violently disturb your metabolism.
I equate this intense form of strength training to jumping rope or running sprints in the way the heart rate is escalated, and how long it takes to recover once training is done. Naturally, you've gotta eat right, if you want to cut up, but since I just can't find the time to do cardio the last year or so, turning my isolation work into groupings is the way I'm going.
Now, I truly thought I was onto something with the way that I was pairing exercises together for the last few years.
Little did I know that Nick Nilsson was actually blowing me away in the intensity department.
I found out last week Nick has a product out that is packed with these combo's, only he takes it up another notch or two.
His product is called Metabolic Monsters, and you've gotta see how he takes one single dumbbell and turns it into a one-piece torture device.
No wonder this particular complex is called the "Single Dumbbell Attack."
I LOVE this kind of training, and I can't wait to give the circuit he shows at the top of the page, and many more like it a try very soon.
All the best in your training.
Jedd
Check Out Metabolic Monsters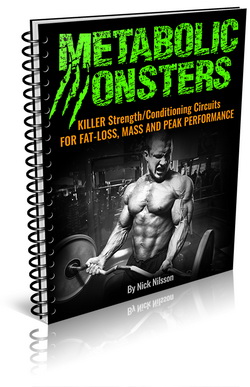 Articles You Might Also Like:
One Response to "Build More Muscle and Burn More Fat with Exercise Groupings"
party casino Says:
April 16th, 2023 at 3:09 am

Avoid networks that could compromise the safety of your computer as well as data.

Also visit my site :: party casino
Leave a Reply