August of Arms – Re-Measure Day 2
August of Arms Update
Today is August 20th, so I did a Re-Measure Day.
To give you a re-cap, I started off the month, just under 19″ by a little bit. On the 10th, I was right around 19.25″, and now, it's looking like I'm up to about 19.5″.
I gotta say, I think the biggest growth has happened in my triceps, especially my left one. Every so often, I'll see my tris out of the corner of my eye, and think, "WOAH, they definitely seem bigger."
Now I wish I would have taken a before and after measurement of my triceps flexed…oh well.
Hey, as small as the growth is, it's still progress. And I'm beyond PUMPED to see it. This little experiment has worked so far, two years in a row.
I'd love to hear how your progress is going. Please leave a comment below.
If you'd still like to get your copy of the August of Arms Program, the low price of $27 is good through the entire month. Get it today => August of Arms.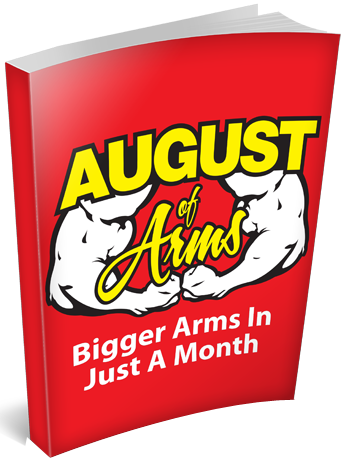 You have the right to build BIG ARMS, and you can start doing it today!
All the best in your training.
Jedd
---
---
Articles You Might Also Like:
Tags: "big biceps", biceps, build big arms, build big biceps, build big triceps, build bigger arms, build bigger triceps