August of Arms 2017
August of Arms
The Funnest Month of Training is Just a Few Days Away, Brotherrrr!
August of Arms 2017 has been updated and is ready to go.
This year's program is totally overhauled, in an attempt to bring you the best version of August of Arms ever.
What started in 2014 as just "going to the gym and doing whatever random stuff I could think of," has gradually evolved into a more and more purposeful month of training, which is also full of fun.
This year's program is based around a new set of Test Lifts. I modified them this year for a few reasons:
feedback that I've gotten from past customers
changes that I've made in my training recently
to give a change of pace to those who have followed August of Arms the last couple of year
and I feel they match better to the goal of building BIGGER and STRONGER arms
The training you this month is based around improving your performance in the Test Lifts, helping you build bigger, stronger arms, and get the most out of your training, with purposefully selected exercises.
August of Arms truly is the Ultimate Arm Training Specialization Program.
To give you an idea of some of the new stuff I've got planned for you, I thought I'd post some of my own Test Lifts.
The first Test Lift I'd like to share with you is the Bodyweight Close Grip Bench Press. I plugged this one into the August of Arms program because for a time earlier this Spring, I did a mini-run at the 225lb Bench Press for Reps, like is done in the NFL combine. I liked it so much, that I built it into AOA 2017.
Bodyweight Close Grip Bench Press
Here is my official Pre-Test video for the Bodyweight Close Grip Bench Press.
Don't worry if you can't do your bodyweight on the Close Grip Bench. I go over some alternatives you can take in August of Arms.
I'll be sharing more Testing Results as I complete the Pre-Test Lifts for August of Arms.
If you're ready to build BIGGER, STRONGER Arms, then pick up your copy of August of Arms 2017 today.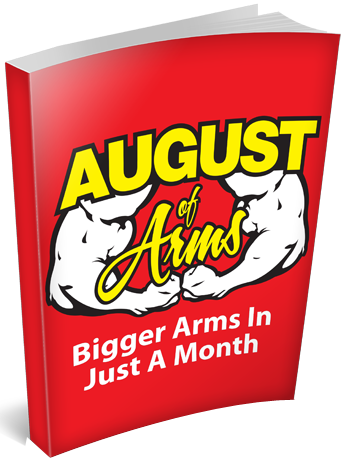 All the best in your training.
Jedd
Articles You Might Also Like:
Tags: aoa, aoa 2017, august of arms, august of arms 2017, build big arms, build big biceps, build bigger arms, build bigger biceps
107 Responses to "August of Arms 2017"
Leave a Reply