Sunday, July 10th, 2011
Hello DIESELS!
I got some pretty good feedback the other day on one of my more mature products, the Card Tearing Ebook System.
I had gotten tagged in a post by someone on Facebook named Chris Davis, and it said:
"Reading through Jedd Johnson's Card Tearing Manual. Great stuff."
So, I searched through my email for this fellow's name and I found the order and his email address and sent him this quick note from my Droid…
"Chris, Thanks for your purchase. Please let me know if you have any questions! Thanks again. Jedd Johnson"
I then got a great email back from him, saying:
"I have heard nothing but praise for you sir from some very high people. Definitely have my eyes on the nail bending ebook/dvd."
So I dug a little deeper and I found out that Chris is also an RKC through Dragondoor and a former Marine. So I also sent him a Thank-You note for his service for our country.
It's funny – when you design a product, write a book/ebook, or film an instructional DVD, you often end up learning more than you knew before you started. For instance, when I wrote the Card Tearing eBook, I learned about several techniques that I didn't know about before. Some of them, I could not do!
For instance, a dude I was training with often at the time, John Eaton had an interesting style of holding the card out in front of his face while tearing them.
This style was much more difficult than what I had learned, so I ask him to shoot the technique on film so that I could put them into the ebook, and he obliged.
I firmly believe in continuing to hone your skills, and over time I was able to perform the John Eaton Technique. As you can see below…
John Eaton Card Tearing Technique
This technique has gotten easier and easier over the last few months.
I take pride in all of my products and strive to make sure they deliver far more value than the bare minimum. For instance, in the Card Tearing eBook, I also included a chapter on restoration. With these exercises, you can do more tearing more often without worrying about overuse injuries.
And honestly, even if you never feel like ripping a deck of cards in half, the exercises in the exercise index will just plain make your hands stronger for carryover into the rest of your lifting, sports activities, and even if you are handling weapons while serving our country.
If you are looking for something that will show you how to build stronger hands while also showing you how to tear a deck of cards like the Strongman Performers of the Past, then check this ebook out…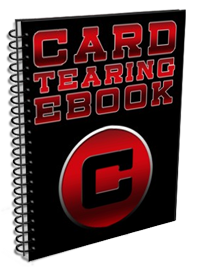 All the best in your training.
Jedd