Tuesday, April 27th, 2010
Keg Lifting Basics
Keg Lifting is a very fun and rewarding form of training. Like Sandbags, Atlas Stones, and Logs, Kegs are considered odd objects.
What are Odd Objects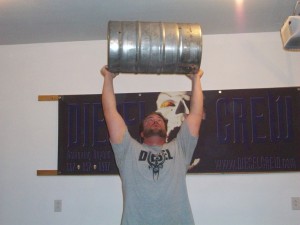 Odd objects are training tools whose center of gravity is unpredictable, often lying out away from the athlete. Odd objects often have considerable bulk and gripping and controlling them is one of the primary challenges of lifting them. While bars and dumbbells have a concise and predictable shape and center of gravity, odd objects force the athlete to react to the dynamic and unpredictable size, shape, and center of gravity of the object.
CHECK OUT THE REST OF THIS KILLER POST AFTER THE JUMP (more…)