Wednesday, August 14th, 2013
Odd Object Training – Intense & Fun Strength Training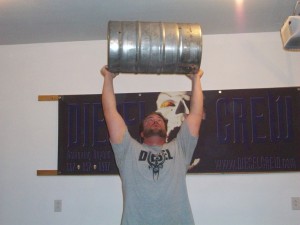 Odd Object training, lifting things like atlas stones, kegs, and sandbags is a very rewarding form of training. You get strong in ways that barbells and dumbbells can not provide and it is fun to pick things up that 99% of the population will never do.
Recently, I wanted to start working some odd object training into the routine. Optimally, I would have wanted to lift some atlas stones. But since it had been over a year since I last trained them, I wanted to work Odd Object Training back in slowly.
Instead of jumping right into stones, I opted to do some sandbag lifting and keg lifting. Both of these implements are shaped very similar to stones, and allow you to get used to the body positions of stone lifting and to somewhat practice the stone lifting technique.
The day I did this was also my Overhead Pressing day so I still wanted to do some overhead work. Since I was working with 110-lb Sandbag and a 127-lb Keg, I was able to get plenty of overhead lifting volume in.
Sandbag Training
For the sandbag, I decided I would do full cleans and presses. This would allow my back to get accustomed once again to the round-back position of odd object training, without going as heavy as my lightest stone, 230-lbs.
To stay conservative, I started with just 3 repetitions in my first set, and then added 1 repetition each set. All the while, I was trying to move faster and faster with the clean and the press in order to get a bit of an increase cardiovascular demand.
In the video you will see that I put a Timer in, just to show how quickly or slowly I was moving through the repetitions. Since there was a clean to the shoulder on each repetition, much more muscle was involved than just performing one clean and going for repetitions afterwards.
Here's the video so you can see how it went.
Keg Lifting
With the Keg I decided to move to just one clean and multiple presses during the set. The clean is much tougher with my Keg because it is only half full of scrap steel and it shifts around quite a bit. I didn't want to push my luck on my wrist, so 1 clean per set was good enough.
I also tried to perform a Keg Snatch, lifting it from between the legs overhead in one movement. I didn't quite get it but I did come close. I think next workout I will be able to perform the snatch.
Check out the video:
As you watch the videos, you will see that I definitely have gotten a bit rusty with my Odd Object training. When you don't do it for a while, you forget the challenge of controlling these implements, especially during the flip-over/catching portion of the Keg and Sandbag clean. After a couple of sets, I was able to knock most of the rust off.
For those who are new to this kind of training, you will want to approach it somewhat how I did. Even after the ow volume of work that I did, I was still sore in the middle back the next day. This is most likely due to the fact that I have been using so many conventional training implements (barbells, dumbbells) that my back is not used to stabilizing against such a dynamic load.
But that is actually the whole idea with Odd Object Training. It makes your body work harder than with regular equipment, so it helps you develop even more as an athlete or strength enthusiast.
Naturally, when you first start out with Odd Object Training, you'll want to start out light and gradually move up as you get used to the demands of the Odd Objects. A good starter weight for most gals is about 50-lbs and for guys, about 80-lbs. That kind of weight with these bulky implements with give you a good introduction.
If you are interested in learning more about Odd Object Training, make sure you sign up for my newsletter, because more information will be coming your way.
If you have any questions on Odd Object Training, be sure to leave them below.
All the best in your training.
Jedd
---
---