Tuesday, August 11th, 2015
August of Arms 2015: Update #1
With yesterday being August 10th, it was my first Re-Measure Day for August of Arms.
I was PSYCHED to report about a 1/4 inch improvement on each arm, especially since the first 7 days of the month I was on family vacation.
As a review, I started out at roughly 19 inches per arm and now I am at 19.25 inches. The still shots are in the video below.
On Saturday, I was driving back from the beach, so I was only able to get some high-rep band work in and missed the planned workout, so on Sunday I combined both Saturday's and Sunday's workouts and got a great session in.
Here's a video of one of the exercises I did, called Arm Wrestler Dumbbell Curls. It was part of the Fame of Arms workout in the August of Arms program.
Arm Wrestler Dumbbell Curls
As you can see, Arm Wrestler Dumbbell Curls is all about strength. The dumbbell used was pretty heavy and the isometric hold at the half-way point was very demanding and produced a different kind of pump in the arms.
The way I see it, it's still early in the month. Plenty more time to produce add size to the guns.
Being home, I will be able to get better quality workouts than when I was on vacation, so I'm really looking forward to the next 2/3 of the month!
It's not too late to pick up your copy of August of Arms. So what if you're late to the ball game.
Your month of August of Arms starts RIGHT NOW!
Pick up your copy of August of Arms TODAY.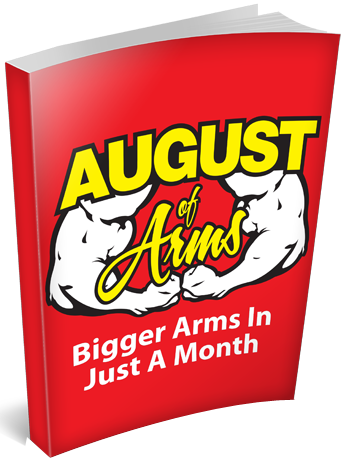 All the best in your training.
Jedd