New Products: Grippin' Window Decals
My friend owns a cool little company, and one of the things they do is produce these adhesive decals that can be placed on building windows, car windows, table tops, and even cornhole boards.
I've teamed up with him to make a few decals, as well, and right now they are all Grip-based.
I think they're going to be awesome decorations for your car, your work station, storage devices, tool boxes, hard hats, etc, and they will make good conversation pieces and help spread the word about our little sport and hobby of Grip.
You can order yours here: Grippin' Window Decals
Here are the three current designs, with a little explanation about how I came up with each one:
My Gripper's Bigger Than Yours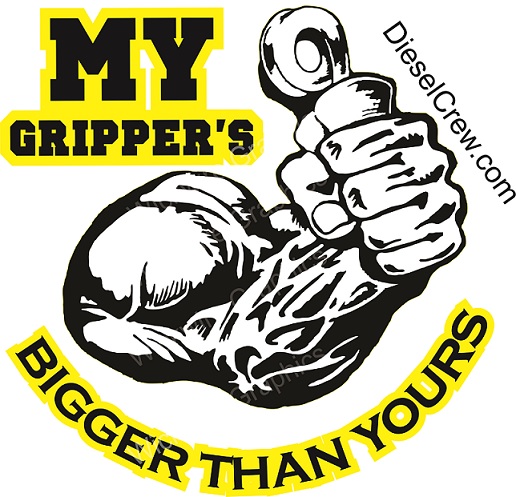 Nothing wrong with a little bragging and smack-talk, every once in a while.
I took the massive arm crushing the gripper from the "Crushin' Grippers Like It's My Job" shirt, and re-purposed it for this one.
Are you the king of grippers in your crew? Then you need this shirt to brag about your Grip Glory.
---
How Man Inches Can You Handle?
A little edgy, this one was thought up by my old artwork guy from years ago.
We became good friends and used to talk all the time, even when we weren't working on artwork projects, but I haven't heard a peep out of him since July of 2012.
Fearing the worst, this one is kind of in memory to Rory Hickman.
---
Pinchin' Ain't Easy
Back in the late 1990's, it was the "Attitude Era" in the WWF, and both the characters and the storylines were edgier back then.
There was a wrestler called the Godfather who was essentially a pimp, and brought prostitutes to the ring. One of his catch-phrases were, "Pimpin' Ain't Easy."
I borrowed that from him and massaged it a fit the theme of Grip, but the little dude is still a Pimp when it comes to Plate Pinching.
---
Again, these decals are supposed to be fun ways to get our sport out there a little bit more. I hope you choose to support this effort by making a purchase today. You can get yours here => Diesel Grippin' Window Decals.
Thanks and all the best in your training.
Jedd
---
---
Articles You Might Also Like:
Tags: advertisement, grip, grip sport, spread the word
Leave a Reply