Iron Master Nomination – Richard Sorin
Hello everybody. Today, I am covering an Iron Master nomination that I put in myself.
This one is for Richard Sorin, owner of Sorinex (Sorinex.com), and famed Grip Strength Legend who innovated The Blob and became the first person to close the #3 Gripper.
Iron Master – Richard Sorin
I first heard of Richard Sorin in 2002 when I first learned about Grip Training.
I quickly found out that essentially the name Sorin and the term Grip Strength were synonymous.
While not the first to train for Grip Strength, Richard has been cited by John Brookfield and many others as a pioneer in the focused development of World Class Grip Strength.
As you'll see, Richard has been messing around with odd objects and Grip Training challenge pieces for decades!

Richard Sorin, Anvil Lifting
I salute Richard Sorin for many reasons. No doubt, Richard's interest in Grip Strength is one of the primary reasons I train for Grip Strength, and plan to do so for decades to come as well.
But also Richard has had a bigger effect on me. Richard inspired me a few years ago to always continue to train hard regardless of what challenges I have going on in my life.
This is because Richard is indeed a Cancer survivor and shortly after battling the disease he was right back to training doing unbelievable feats, including pulling large vehicles with the strength of his neck, using a head harness, shown below.
– – – – – – – – – – – – – – – – – – – – – – – –
I asked Richard to write a few words about how he got started in strength training, and I figured that he would say something like High School or College Sports got him into training, but in reality it started out far, far, far before that. Check this out…
My mind spins trying to say where it all started… I loved strength from my earliest times. I hauled my Billard Jr. Champmaker Barbell into show and tell in 5 year old kindergarten (my most prized posession at that time).

Years went by with my backyard gyms, a huge cellar gym with full size platforms at "The Cedar St. Boys" and monthly trips to compete in Olympic weightlifting contests in New York City at Lost Battalion Hall.

I represented the Keasby Eagles lifting club along with famed Olympian Phil Grippaldi. Trips to York starting at age 13, the York picnics, Saturday training at the York gym, eating with the "greats" at the York diner all moulded me.
Richard on his college years and further exploration of the world of strength training…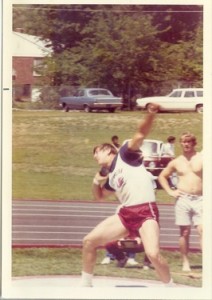 Later, when strong enough to acquire a scholarship at U of South Carolina I competed in track, throwing the discus and shotput. I was only 215 bodyweight but summer spent at home during the college years at the Elizabeth YMCA gave me the power and drive to do well.

Power rack training started in its early development with my training partner Anthony Dittillo and Dezo Ban, my Hungarian mentor, and we grew strong. Track was a passion but lifting was my love and rarely did (at least in my mind) the two overlap. I had mechanical skills and wherever I went, school, teaching, coaching, whatever, I always tried to build the better mousetrap as far as exercise and strength equipment was concerned.

My teaching years ended in the realization there was more for me to do. I started my business and though my offerings were heavy, black, and ugly all said "it lasts forever." That was 30 years ago and still now at 60 my thirst and love of iron persists.
Richard on why he remains involved in Grip and other sporting endeavors…
I feel as part of giving back to so many that took their time to inspire and help me, (I try) to help with events that bring new blood into the sport: Our yearly Summer Strong Day of Strength, our open door, open house daily policy, being involved in creating the events and equipment at the Arnold's Classic Strongman and now "Mighty Mitts" has brought my life full circle.
I asked Richard what he felt were some of his greatest accomplishments in Grip and the World of Strength…
My greatest accomplishments were in part touched by the "impossible" strength rooms designed and built for colleges and pro teams that won State, National championships, Superbowls and through a bit of what I did became stronger men.

My greatest accomplishment is taking the gifts God gave me and having the opportunity to do something with them in the presence of the joy of my life my son Bert. A father always wants his child to be more than he was…I have my wish answered in him.
I asked Richard what some of his numbers are and what his training routine involves these days, and here is what he said…
I still lift 3-4 days per week and don't understand what taking an easy workout is. My overall strength for a skinny guy was good in my earlier years with a 290 snatch 714 deadlift, and 675 squat, cheat curl 238X10 etc.

My real strength, whether I realized it or not, was in my hands. I always toyed with my grip but in the late 80's I began doing bouts of grip work where some personal bests rivaled the top recorded efforts. I tried to vary my training and devised tools of grip to test and build my strength in the three aspects that grip strength is measured (crush, pinch, support).


Lifting the Blob

I took a simple chunk of pesky broken York dumbbell and after mastering lifting it, it slowly became a world standard for grip manhood "the Blob."


The First to Close the #3

I was in the early years of spring gripper interest and again lucky to set a world standard level by being the first to close a #3 Ironmind gripper, a feat that I was proud to repeat officially 17 years later at age 58.

Note from Jedd: Richard has been one of a very few who has actually re-certified on the #3 after the rule change was implemented in 2005, mandating the use of a credit card to establish legal set depth…)

My strongest feats seem like they all revolved around my strength in my first two fingers,

Deadlifts of 552 on a 1″ bar
530 on a 2″ bar
675 lockout
and a #3 gripper close

These were all done with just those two fingers of each hand.

My supporting power was also good with a non strap assisted lockout with 1331lbs. If anything good came of this hard work was to see the interest in Grip grow a hundredfold and still be able in my own way to help things along.

I can't say life has been easy but the guiding light of strength has sustained and has given me memories that indeed has given me a "wealthy soul".

Your friend in strength,

Richard Sorin
It's been my pleasure to feature Richard Sorin this week in the Diesel Iron Masters. Now check out some of the other pics that were sent over by Kevin and Jeff at Sorinex who helped me out with this recognition.
If you would like to nominate someone for Iron Masters, please contact me at my email address. Put "Iron Masters Nomination" in the subject. From there, include the name of the recipient along with the information you'd like to provide.
Remember, the person needs to be at least 40 years old, they have to be an avid strength trainer, and they have to have had a profound effect on you, inspired you, or in some other way motivated you to train in order to follow in their foot-steps. They HAVE to be a GOOD EXAMPLE.
You can NOT nominate yourself, however…
To give you an idea of other Diesel Iron Master recipients, check out the links below:
I look forward to receiving your nominations. Thanks and all the best in your training.
Jedd

Get Certified on the #3 = > The Grip Authority

Start Melting Steel = > Nail Bending DVD

Christmas Grip Shirt = > Merry Gripmas
Articles You Might Also Like:
Tags: 50-lb blob, blob, blobs, feats of strength, grip feats, grip pioneer, grip strength, grip training, pinch grip, richard sorin, sorinex, the blob
14 Responses to "Iron Master Nomination – Richard Sorin"