New All Time PR on Deadlift – 550lbs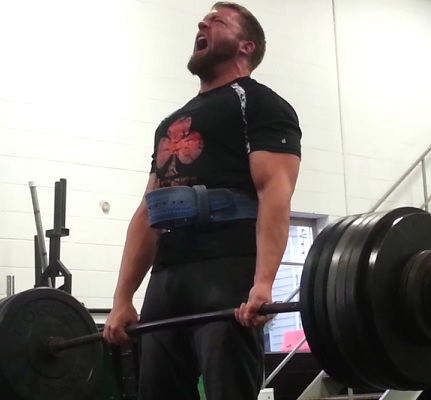 It's been since January of 2004 since I set a regular Deadlift PR, when I lifted 545-lbs. 11+ years.
I was 26. I'm almost 37 now, so it's been a lengthy drought, you might say…
2004 is when I started experiencing routine back injuries that would sideline me for days or even a week at a time.
Unfortunately, my young, idiotic brain, just wanted to keep pushing harder and harder, and that meant the pain I'd experience would get worse and worse.
I'd hobble around for a week after my Strongman contests.
I'd literally limp through the hallway at my old job, after hard weekend workouts involving Deadlifts and Squats.
Finally, in 2008, I think, I had enough.
Since Squats and Deadlifts were so bad for me, I decided I wouldn't do them anymore.
From 2008 until 2012, I rarely did heavy Deadlifts or Squats.
Of course, I continued to do Axle Deadlifts, because it's a staple in Grip Sport competition, and I'd dabble every now and again with Squats and Deads, but never got back into them seriously until June of 2013, when I decided I was finally ready health-wise to get back under the bar and pull some weight off the floor.
For Squats, I literally started with the bar, hitting sets of 10. That's how much I lacked confidence and stability.
For Deadlifts, I decided I'd guard my back by only doing Double Overhand grip (I was afraid of tearing a biceps anyway).
The Coan Philippi Deadlift Program
This Summer, I decided I was ready to finally train the Deadlift with some conviction, and I started a run through the Coan Philippi Deadlift Program.
I gotta say, it was AWESOME to push myself on Deadlifts! It was the first time I'd EVER followed a Deadlift Program in my life.
When you start the Coan Philippi program, it asks you for your starting max and your goal max at the end of 10 weeks, and then it computes everything for you.
I stayed a bit conservative and put in a 500-lb Max to begin with and a 550-lb Max for the end. My partner, Luke Raymond, started out with the same numbers, and it worked out really easy training with him, because we didn't have to change the weights around at all.
The weights at the beginning of the program were super light, so Luke and I started on week 3 or 4. Everything went smooth until like Week 7. That's when the volume caught up with me.
I struggled through to Week 9, when I hit 535-lbs, but my body just wouldn't cooperate with me for Week 10, and I decided against going for a new PR on 3 separate Saturdays, until this past week.
The conditions still weren't optimal, as I was up at 2AM to take my parents to the airport, and I trained at 5:30AM with my buddy, Brad Martin, but my back felt fully recovered after the 3-week layoff from heavy work, so I went ahead with the Week 10 plan.
And, I'm happy to say I was successful in my 550-lb lift, with potential for probably a few pounds more, although I didn't push it.
Here's the video:
Jedd Johnson All-Time PR Deadlift – 550lbs
What an awesome sensation, to FINALLY feel somewhat strong again.
Thankfully, after staying patient, working back slowly, and using my brain instead of my ego, I have been able to break one of my longest standing PR's.
I must also say, I LOVE the Coan Philippi Program. It made me feel like a monster, and sometime this Fall, I plan on running through it again, once Luke's schedule evens back out and we get train it together again.
Look for more updates, especially on my YouTube Channel, once I start the program up again.
All the best in your training.
Jedd
Articles You Might Also Like:
Tags: deadlift, deadlift training, deadlift workout, how to build your deadlift, how to increase your deadlift
87 Responses to "New All Time PR on Deadlift – 550lbs"
Leave a Reply