Classic Strongman Month – Week 2
Hello DIESELS!
Did you see how the first week in the Classic Strongman Feats Tournament panned out? If not, here is the video:
Congrats to David on the First Round Win in this Five-Round competition!
The standings from Week 1:
1 – David Horne – 3 Points
2 – Mike Rinderle – 1.5 Points
2 – Jason Steeves – 1.5 Points
3 – Richard McLean – 1 Point
This week's feat is Card Tearing.
According to David Horne, the earliest recorded Grip Competition was a Card Tearing contest featuring various styles of tearing a deck of cards.
After all, there are many ways to tear a deck of cards:
Tearing a Deck in Half Vertically
Tearing a Deck Lengthwise
Tearing Multiple Decks in Half
Cornering a Deck
Quartering a Deck
Tearing While Wearing Gloves
And the list goes on and on
In fact all these techniques are explained in my Card Tearing eBook, and I can show you how to do all of that stuff.
Despite all of many ways to tear a deck of cards, we will focus on only two of them: Tearing a Deck in Half and then Quartering one of those Halves, as quickly as possible.
Now, there are many styles of Decks of Cards out there, and the difficulty of these different decks varies quite a bit.
With that in mind, the standard deck we are going to use this week is Bicycle Brand. If you tear a deck of Bicycles in half and then quarter one half, then you will beat anyone you face who does not complete this feat with bicycles or someone who completes it with non-Bicycles. However, if you do complete the full feat with a deck of non-Bicycle Brand cards, then you will beat someone you face who could only rip the Bicycles in half.
So, again, the Ultimate Goal here is to tear a deck of Bicycles in half and then rip one half into half again.
If you do not have access to Bicycles, just rip what you have.
Aside from this there are only a few other rules:
The Full Tear Must be Non-Braced (no bracing the cards or the hands against your thigh or stomach
The Deck must be a new deck, showing the plastic wrap and seal being broken on camera
You may use chalk, but no adhesive on the fingers
As much of the tear should be done on camera (to prevent someone potentially dropping the deck out of the screen and then picking up another doctored deck)
Other rules will be added as they come to me – try to stick to the legitimate form of the challenge please!
I am currently on vacation and I have not had the opportunity to film a demonstration, but this will happen if/when I am able.
Otherwise, get me your video submissions by 8 PM on Saturday, August 13th, 2011.
Get to tearin' and Get to filmin'!!!
Jedd
P.S. Thanks to the Bender's Battlefield for donating $50 of Drill Rod!!!
P.P.S. Need to learn how to get hands tough enough to rip decks of cards in half like sheets of paper? Then get the ebook that shows you everything you need to know, SON!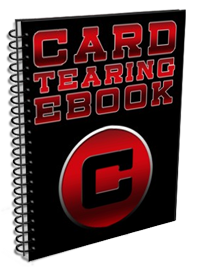 Articles You Might Also Like:
Tags: card tearing, feats of strength, rip cards, ripping cards, strongman feats, tear cards
4 Responses to "Classic Strongman Month – Week 2"
Leave a Reply