Build a Big Back with Pendulum Rows
Last year, in May, I performed a Strongman Show during the Bodybuilding Contest at the Empire Classic Fitness Expo in Spokane, Washington.
I also assisted with several other events that were part of the Expo, including a Strongman contest, and that's where I met Luke Ehlis, one of the competitors in the Strongman Contest.
Luke had been a bodybuilder prior to the Strongman Comp, and I was extremely impressed with his prowess in Strongman.
Let's face it – you don't often see competitive bodybuilders who are able to crossover in Strongman competition and excel, but Luke did.
What's even more impressive, to me, about Luke is that he trains primarily in his garage, not some giant warehouse gym, not some fancy fitness center, but his own garage gym at his home.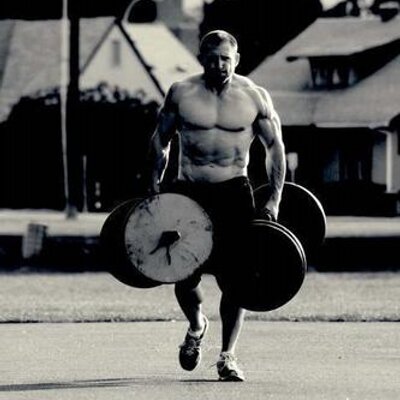 I've stayed in touch with Luke since the contest and have an interview with him planned, and since then, I've enjoyed watching Luke's videos on Instagram and Facebook, because the dude is an innovator.
One of the things I saw him do recently was what I refer to as a Pendulum Row. In a recent video, he attached a Bar to his Reverse Hyper device, and used the hanging weight as the resistance for his Bent Over Rows.
I thought that was awesome, because I knew it would feel completely different from a regular Bent Over Row.
This past weekend, my lifting partner, Lucas Raymond, and I got the chance to try out these Pendulum Rows, and they are KILLER!
Build Your Back with Pendulum Rows
These are so stinkin' Intense, brotherrr! The swinging action of the Reverse Hyper makes the weight pull away from you at the highest point of the Row. What I was trying to do was to get a good, solid pause at the top of the movement, but it was HARD!
To challenge our grip more, we used the FBBC Crusher, which is a free-spinning thick bar handle, much more difficult to use than the Rolling Thunder, plus, we were flexing our wrist into a partial gooseneck position, which made these even more difficult to do.
I'm telling you right now, these are a WINNER for your back training. The way you have to brace your core on these is just plain sinister. You feel them BIG TIME in your back. Try them if you dare.
Stay tuned for an interview with Luke Ehlis, as soon as I can get my act together.
All the best in your training.
Jedd
P.S. August of Arms is coming. GET READY.
P.P.S. If you want even more cool ideas to build a bigger upper back and thicker set of traps, check out YOKETOBER:
Articles You Might Also Like:
27 Responses to "Build a Big Back with Pendulum Rows"
Leave a Reply